OAKLEY OX3180-0253 FULL RIM TRANSITIONS PROGRESSIVE VARIFOCAL Reading Glasses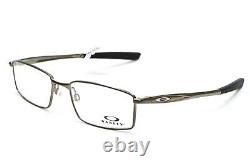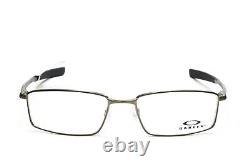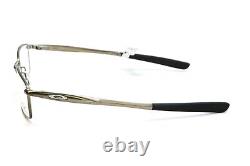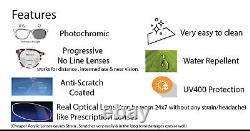 Authentic Oakley Frames Mounted to NON-Oakley Photo-Gray Progressive Varifocal Multifocal Lenses Near Strengths(Diopters) Available : 1.00, 1.25,1.50, 1.75, 2.00, 2.25, 2.50, 3.00. What You See is What You Will Get!!!! Please see our store to see complete range of Eyeglasses. We are Authorized Oakley Dealers. Benefits of Progressive Multifocal Lenses Distance vision in this progressive lenses is non prescription & near vision is strength you pick for reading.
Progressives have no dividing lines like bifocal & covers distance, intermediate & near. It takes some time to suit as per your eyes & It may take 1 day or 1 month depends upon adaptive capacity of one's eyes. Only guarantee for we will provide 100% accurate lenses of your strength.
Progressive lenses also provide a more natural correction of presbyopia than bifocal or trifocal glasses. Instead of providing just two or three lens powers like bifocals or trifocals, progressive lenses are true "multifocal" lenses that provide a seamless progression of many lens powers for all viewing distances. Progressive lenses have no dividing lines as they are in bifocals or trifocals. With progressive lenses, you can look up to see clearly across the room and in the distance. You can also look ahead to view your computer in the intermediate zone and drop your gaze downward to read and do fine work comfortably. And it's easy to adapt to progressive lenses.
And progressive lenses eliminate an annoying problem caused by bifocal and trifocal lenses known as image jump. " With conventional bifocals and trifocals, images seem to "jump as your eyes move past the sharply defined boundary between the distance and near parts of the lens. With progressive lenses, the transition between lens powers within the lens is smooth and seamless, letting you change focus from distance to near and back again more comfortably. Benefits of Photocromic(TRANISTIONS) Lenses Photochromic sunglasses are commonly referred to as transitional sunglasses because of their transition from dark when outdoors to light when indoors. The definition of photochromic is capable of changing color on exposure to radiant energy and of, relating to, or utilizing the change of color shown by a photochromic substance.
You may ask yourself, How does this happen? Photochromic lenses have many molecules embedded in them. These molecules are transparent to visible light when in the absence of UV light, so the lenses will be light.
When in the presence of UV rays, the molecules react and change shape. When this happens the molecules absorb some of the visible light causing the lens to darken. The brighter the sunlight the darker the lens. If you wear eyeglasses and wear sunglasses when outside, you are forced to carry two pair of eyewear. For most people this is a hassle.
You either break the pair you are carrying or lose them. If you choose to wear photochromics, you can wear them for eyeglasses and sunglasses. Photochromic sunglasses are great for motorcycle riding sunglasses as well. So many motorcyclists are forced to carry two or even three pairs of sunglasses or goggles or interchangeable lens kits with clear, charcoal and amber color lenses.
With photochromic lenses you do not have to pull off the side of the interstate endangering your life and maybe others to change your sunglasses or goggles. You can ride from morning to night without ever having to change your eyewear. Photochromic glasses are best option for any glasses wearer as they protect your eyes against harmful UV rays. Photochromic glasses are multi purpose. This item is in the category "Health & Beauty\Vision Care\Reading Glasses".world" and is located in this country: IN. This item can be shipped worldwide.
Lens Protection: 100% UV400
Lens Technology: Progressive, Progressive Lenses
Gender: Unisex
Brand: Oakley
Frame Color: Pewter
Authenticity: 100% Original Guaranteed
Optical Lenses?: Yes we do all optical lenses.
Department: Unisex Adults
Type: Reading Glasses
UV Protection: 100% UV400
Lens Material: Non-Oakley Plastic Photo-Gray Progressive
Benefits of Progressive: Works for Far,Intermediate & Near.
Model: Oakley Spring Loaded Frames
Style: Rectangle
Lens Color: Darkens Grey in Sunlight .
Rx-Able: Yes
Demarcation: No Visible Dividing Line or Joint like Bifocals.
Frame Size: 53-17-137