Four Toyota Corolla 2017- 2019 Hubcap Wheel Rim Cover 16 P/n 4260202520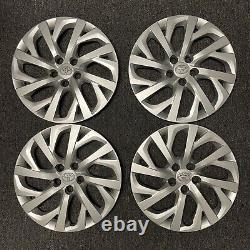 Price is for FOUR hubcap. This is an original OEM genuine Toyota wheel cover that originally came on Corolla vehicles with the factory steel wheel. It is a perfect match for 2017, 2019 Toyota Corolla hubcaps. Listing is for FOUR hubcap. SAME CONDITION AS YOU RECEIVED IT.
If you used it on your vehicle or caused any damage to it, we cannot accept a return. Be sure to always put the hubcaps back in the plastic bags they came in and always use the cardboard separators.